PENGARUH PERMASALAHAN KESEHATAN DAN SOSIAL TERHADAP KEPARAHAN PENYALAHGUNAAN NARKOTIKA
Keywords:
penyalahgunaan narkotika, psikiatris, kesehatan, keluarga
Abstract
Angka prevalensi penyalahgunaan narkotika di Indonesia mencapai 1,8%. Hal ini dapat memengaruhi potensi bonus demografi Indonesia. Keparahan penyalahgunaan narkotika dipengaruhi oleh kondisi sosiodemografis dan permasalahan yang dialami oleh penyalah guna narkotika. Permasalahan kesehatan dan sosial yang diamati dalam penelitian ini yaitu permasalahan psikiatris, permasalahan pekerjaan, permasalahan kesehatan, dan permasalahan keluarga/sosial. Tujuan penelitian ini yaitu menganalisis hubungan antara permasalahan kesehatan dan sosial dari penyalah guna narkotika terhadap tingkat keparahan penyalahgunaan narkotika yang dideritanya.
Data penelitian berasal dari Badan Narkotika Nasional tahun 2019-2020 yang mencakup data penyalah guna narkotika yang menjalani program rehabilitasi di lembaga rehabilitasi milik Badan Narkotika Nasional yang berjumlah 6790 orang. Penelitian ini menggunakan metode Ordinary Least Square. Hasil penelitian ini menunjukkan bahwa ada hubungan positif dan signifikan antara permasalahan psikiatris, pekerjaan, kesehatan, dan keluarga terhadap keparahan penyalahgunaan narkotika di Indonesia. Keparahan penyalahgunaan narkotika tingkat sedang hingga sangat berat berada paling besar pada kelompok umur 16-25 tahun.
References
Adioetomo, S. M. (2017). Perempuan dan Bonus Demografi. Kompas.
Badan Narkotika Nasional Republik Indonesia. (2021). Pasar Narkotika Indonesia Menarik Bagi Sindikat.
Badan Perencanaan Pembangunan Nasional. (2019). Indonesia 2045: Berdaulat, Maju, Adil, dan Makmur.
Bahr, S. J., Maughan, S. L., Marcos, A. C., & Li, B. (1998). Family, Religiosity, and the Risk of Adolescent Drug Use. Journal of Marriage and Family, 60(4), 979–992. https://doi.org/10.2307/353639
Bhattacharya, J., Hyde, T., & Tu, P. (2014). The Palgrave Macmillan Health Economics. International Business: Concepts, Methodologies, Tools, and Applications.
Challier, B., Chau, N., Prédine, R., Choquet, M., & Legras, B. (2000). Associations of family environment and individual factors with tobacco, alcohol and illicit drug use in adolescents. European Journal of Epidemiology, 16(1), 33–42.
Edwards, A. C., Ohlsson, H., Sundquist, J., Sundquist, K., & Kendler, K. S. (2020). Socioeconomic sequelae of drug abuse in a Swedish national cohort. Drug and Alcohol Dependence, 212, 107990.
Er, V., Campbell, R., Hickman, M., Bonell, C., Moore, L., & White, J. (2019). The relative importance of perceived substance misuse use by different peers on smoking, alcohol and illicit drug use in adolescence. Drug and Alcohol Dependence, 204, 107464.
Gill, I. S., Kharas, H. J., & Bhattasali, D. (2007). An East Asian renaissance: Ideas for economic growth. World Bank Publications.
Glei, D. A., Stokes, A., & Weinstein, M. (2020). Changes in mental health, pain, and drug misuse since the mid-1990s: Is there a link? Social Science & Medicine, 246, 112789.
Guerri, C., & Pascual, M. (2019). Impact of neuroimmune activation induced by alcohol or drug abuse on adolescent brain development. International Journal of Developmental Neuroscience, 77, 89–98.
Heryanto, M. L., Heriana, C., & Kurniarahim, F. (2017). Hubungan Pengetahuan dan Sikap Tentang Gambar Peringatan Kesehatan Pada Kemasan Rokok Dengan Perilaku Merokok Pada Remaja. Jurnal Ilmu Kesehatan Bhakti Husada: Health Sciences Journal, 6(2), 75–79.
Lu, X., & White, H. (2014). Robustness checks and robustness tests in applied economics. Journal of Econometrics, 178, 194–206.
Rahim, F. K., Suksaroj, T., & Jayasvasti, I. (2016). Social determinant of health of adults smoking behavior: differences between urban and rural areas in Indonesia. Kesmas: Jurnal Kesehatan Masyarakat Nasional (National Public Health Journal), 11(2), 51–55.
Rizal, M. F., & van Doorslaer, E. (2019). Explaining the fall of socioeconomic inequality in childhood stunting in Indonesia. SSM - Population Health, 9, 100469. https://doi.org/10.1016/j.ssmph.2019.100469
Rougemont-Bücking, A., Grazioli, V. S., Daeppen, J.-B., Gmel, G., & Studer, J. (2017). Family-related stress versus external stressors: Differential impacts on alcohol and illicit drug use in young men. European Addiction Research, 23(6), 284–297.
Tempo. (2021). Bisnis Narkoba di Indonesia Capai Rp 13 Trilun.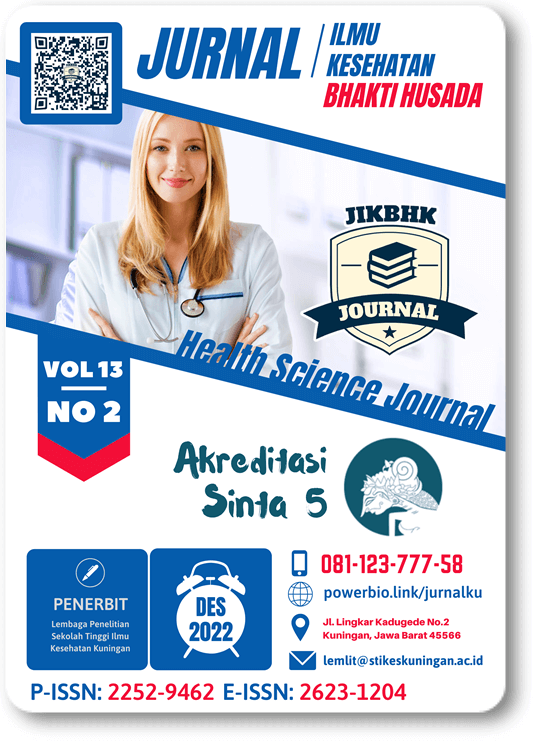 Downloads
How to Cite
Dewabhrata, W. ., Ahsan, A., & Rahim, F. K. (2022). PENGARUH PERMASALAHAN KESEHATAN DAN SOSIAL TERHADAP KEPARAHAN PENYALAHGUNAAN NARKOTIKA. Jurnal Ilmu Kesehatan Bhakti Husada: Health Sciences Journal, 13(02), 190–201. https://doi.org/10.34305/jikbh.v13i02.539
License
This work is licensed under a Creative Commons Attribution-NonCommercial-ShareAlike 4.0 International License.

Penulis yang mempublikasikan dengan Journal of Health Services setuju dengan syarat-syarat berikut:

Penulis mempertahankan hak cipta dan memberikan Journal of Health Services hak dari publikasi pertama dengan karya yang secara serentak dilisensikan di bawah lisensi Creative Commons Attribution 4.0 International yang memungkinkan orang lain untuk melakukan perubahan, menyesuaikan dan membangun karya dengan pengakuan atas karya penulis dan publikasi awal dalam Jurnal . Penulis diizinkan untuk menyalin dan mendistribusikan ulang versi karya yang diterbitkan jurnal (misalnya, mempostingnya ke repositori institusional atau menerbitkannya dalam sebuah buku), dengan pengakuan atas publikasi awalnya di Journal of Health Services.

Abstract viewed = 144 times