PENGARUH TERAPI MUROTTAL AL-QUR'AN TERHADAP KECEMASAN, STRES DAN TEKANAN DARAH PADA PEKERJA (STUDI KASUS : PT. ARTERIA DAYA MULIA (ARIDA) CIREBON
Keywords:
kecemasan, stres, tekanan darah, terapi murattal al-Qur'an
Abstract
Lingkungan kerja yang tidak sesuai standar menimbulkan dampak yang merugikan bagi pekerja. Terapi murottal Al-Qur'an mampu mendamaikan seseorang secara damai dan tentram. Penelitian ini bertujuan untuk menganalisis pengaruh terapi murottal Al-Qur'an terhadap kecemasan, stres kerja, dan tekanan darah pekerja di PT. ARIDA Cirebon. Penelitian ini menggunakan desain pra-eksperimen dengan desain two- group pretest-posttest design. Subjek penelitian adalah 36 pekerja yang diambil secara accidental sampling. Subjek dibagi menjadi dua, 18 orang sebagai kelompok intervensi dan sisanya sebagai kontrol. Instrumen yang digunakan dalam penelitian ini adalah kuesioner dan tensimeter. Data dianalisis secara deskriptif dan dengan uji marginal homogeneity.
Hasil penelitian menunjukkan bahwa terdapat penurunan tekanan darah, tingkat stres dan kecemasan pada kelompok yang mendapat terapi murottal Al-Qur'an. Terdapat perbedaan tingkat kecemasan dengan pengukuran tekanan darah (p= 0,000) dan stres (p= 0,006) antara kedua kelompok. Dapat disimpulkan bahwa ada pengaruh terapi murottal Al-Qur'an terhadap penurunan tingkat stres, kecemasan dan tekanan darah pekerja di PT. ARIDA. Penanggung jawab ruang produksi dan pekerja dapat mempertimbangkan dan menerapkan terapi murottal Al-Qur'an sebagai terapi alternatif untuk mengurangi gejala stres secara mandiri.
References
Astuti, A., Suryono, S., Widyawati, M. N., Suwondo, A., & Mardiyono, M. (2017). Effect Of Audio Therapy Using Al-Qur'an Murrotal On Behavior Development In Children With Autism. Belitung Nursing Journal, 3(5), 470–477. https://doi.org/10.33546/bnj.189
Aziz, N. A., Ali, S., & Hassan, M. H. (2019). Effects of Holy Quran Listening on Physiological Stress Response in Intensive Care Unit Patients. International Journal of Human and Health Sciences (IJHHS), 36. https://doi.org/10.31344/ijhhs.v0i0.154
Balitbangkes. (2018). Laporan Riset Kesehatan Dasar 2018. Kemenkes Republik Indonesia.
Burman, R., & Goswami, T. G. (2018). A Systematic Literature Review of Work Stress. International Journal of Management Studies, V(3(9)), 112. https://doi.org/10.18843/ijms/v5i3(9)/15
Burns, K. N., Sayler, S. K., & Neitzel, R. L. (2019). Stress, health, noise exposures, and injuries among electronic waste recycling workers in Ghana. Journal of Occupational Medicine and Toxicology (London, England), 14, 1. https://doi.org/10.1186/s12995-018-0222-9
Daiber, A., Kröller‐Schön, S., Frenis, K., Oelze, M., Kalinovic, S., Vujacic‐Mirski, K., Kuntic, M., Bayo Jimenez, M. T., Helmstädter, J., Steven, S., Korac, B., & Münzel, T. (2019). Environmental noise induces the release of stress hormones and inflammatory signaling molecules leading to oxidative stress and vascular dysfunction—Signatures of the internal exposome. BioFactors. https://doi.org/10.1002/biof.1506
Dolcos, F., Hohl, K., Hu, Y., & Dolcos, S. (2021). Religiosity and Resilience: Cognitive Reappraisal and Coping Self-Efficacy Mediate the Link between Religious Coping and Well-Being. Journal of Religion and Health, 60(4), 2892–2905. https://doi.org/10.1007/s10943-020-01160-y
Israel-Cohen, Y., Kaplan, O., Noy, S., & Kashy-Rosenbaum, G. (2016). Religiosity as a Moderator of Self-Efficacy and Social Support in Predicting Traumatic Stress Among Combat Soldiers. Journal of Religion and Health, 55(4), 1160–1171. https://doi.org/10.1007/s10943-016-0187-x
Kartini, K., Fratidhina, Y., & Kurniyati, H. (2017). Pengaruh Mendengarkan Murottal Terhadap Penurunan Tekanan Darah Pada Ibu Hamil Preeklamsi Di Rsia Pku Muhammadiyah Tangerang. Jurnal JKFT, 1(2), 40. https://doi.org/10.31000/jkft.v2i2.61
Kemenkes. (2016). Standar dan Persyaratan Kesehatan Lingkungan Kerja Industri. Peraturan Menteri Kesehatan No. 70 Tahun 2016
Kuyken, W., Warren, F. C., Taylor, R. S., Whalley, B., Crane, C., Bondolfi, G., Hayes, R., Huijbers, M., Ma, H., Schweizer, S., Segal, Z., Speckens, A., Teasdale, J. D., Van Heeringen, K., Williams, M., Byford, S., Byng, R., & Dalgleish, T. (2016). Efficacy of Mindfulness-Based Cognitive Therapy in Prevention of Depressive Relapse: An Individual Patient Data Meta-analysis From Randomized Trials. JAMA Psychiatry, 73(6), 565–574. https://doi.org/10.1001/jamapsychiatry.2016.0076
Mamlukah, M., Hadisaputro, S., Soejoenoes, A., Shaluhiyah, Z., & Syukur, M. A. (2019). Therapeutic effect of al-Quran murattal on anxiety, sFlt-1, PIGF and sFlt-1/PIGF ratio in pregnant women with risk of preeclampsia. International Journal of Research in Medical Sciences, 7(5), 1425. https://doi.org/10.18203/2320-6012.ijrms20191628
Mamlukah, M., Kumalasari, I., & Setiadi, R. (2020). Antenatal Yoga and Murottal Al-Quran Therapy Decreasing Anxiety and Blood Pressure of Preeclampsia Risk Women. Media Kesehatan Masyarakat Indonesia, 16(4), 410–420. https://doi.org/10.30597/mkmi.v16i4.9094
Münzel, T., Schmidt, F. P., Steven, S., Herzog, J., Daiber, A., & Sørensen, M. (2018). Environmental Noise and the Cardiovascular System. Journal of the American College of Cardiology, 71(6), 688–697. https://doi.org/10.1016/j.jacc.2017.12.015
Münzel, T., Sørensen, M., Schmidt, F., Schmidt, E., Steven, S., Kröller-Schön, S., & Daiber, A. (2018). The Adverse Effects of Environmental Noise Exposure on Oxidative Stress and Cardiovascular Risk. Antioxidants & Redox Signaling, 28(9), 873–908. https://doi.org/10.1089/ars.2017.7118
Pandey, D. L. (2020). Work Stress and Employee Performance: an Assessment of Impact of Work Stress. Aarf, 7(5), 124–135. Website- www.aarf.asia
Park, C. L., Smith, P. H., Lee, S. Y., Mazure, C. M., McKee, S. A., & Hoff, R. (2017). Positive and Negative Religious/Spiritual Coping and Combat Exposure as Predictors of Posttraumatic Stress and Perceived Growth in Iraq and Afghanistan Veterans. Psychology of Religion and Spirituality, 9(1), 13–20. https://doi.org/10.1037/rel0000086
Pradoto, H., Haryono, S., & Wahyuningsih, S. H. (2022). The role of work stress, organizational climate, and improving employee performance in the implementation of work from home. Work, 71(2), 345–355. https://doi.org/10.3233/wor-210678
Rahmat, R., Mustikaningsih, D., & Haryanto, M. (2019). Pengaruh Terapi Murottal Al-Qur'an Terhadap Tingkat Stres Kerja Perawat IGD Rumah Sakit Al-Islam Bandung. Jurnal Keperawatan Profesional, 7(2), 48–69. https://doi.org/10.33650/jkp.v7i2.600
Reza, J. (2016). Pengaruh Stres Kerja dan Persepsi Terhadap Beban Kerja Dengan Motivasi Kerja. Psikoborneo, 4(3), 363–369.
Safitri, A., Dewie, A., & Silvia, N. N. (2021). Pengaruh Terapi Murottal Al-Qur'an terhadap Penurunan Intensitas Nyeri Persalinan Kala 1 Fase Aktif Dilatasi Maksimal. Jurnal Bidan Cerdas, 3(1), 25–30. https://doi.org/10.33860/jbc.v3i1.217
Suprapti, S., & Wirawati, M. K. (2017). Upaya Penurunan Intensitas Nyeri Persalinan Kala 1 Fase Aktif Dengan Murottal Al-Qur'an Di Rumah Sakit Umum Daerah Kota Semarang. Jurnal Manajemen Asuhan Keperawatan, 1(2), 31–36. https://doi.org/10.33655/mak.v1i2.18
Talik, E., & Skowroński, B. (2018). The Sense of Quality of Life and Religious Strategies of Coping with Stress in Prison Inmates. Journal of Religion and Health, 57(3), 915–937. https://doi.org/10.1007/s10943-017-0455-4
Wirakhmi, I. N., & Hikmanti, A. (2018). Respon Fisiologis Pasien Pasca Operasi Caesar Setelah Terapi Murotal Ar-Rahman. Jurnal Keperawatan Soedirman, 11(2), 89. https://doi.org/10.20884/1.jks.2016.11.2.654
Wulan, S. (2019). Perbedaan Efektivitas Metode Terapi Musik Religi Dengan Massage Effleurage Terhadap Nyeri Persalinan Kala I Fase Aktif Primigravida. Jurnal Kebidanan Kestra (JKK), 2(1), 103–109. https://doi.org/10.35451/jkk.v2i1.302
Yan, H., & Xie, S. (2016). How does auditors' work stress affect audit quality? Empirical evidence from the Chinese stock market. China Journal of Accounting Research, 9(4), 305–319. https://doi.org/10.1016/j.cjar.2016.09.001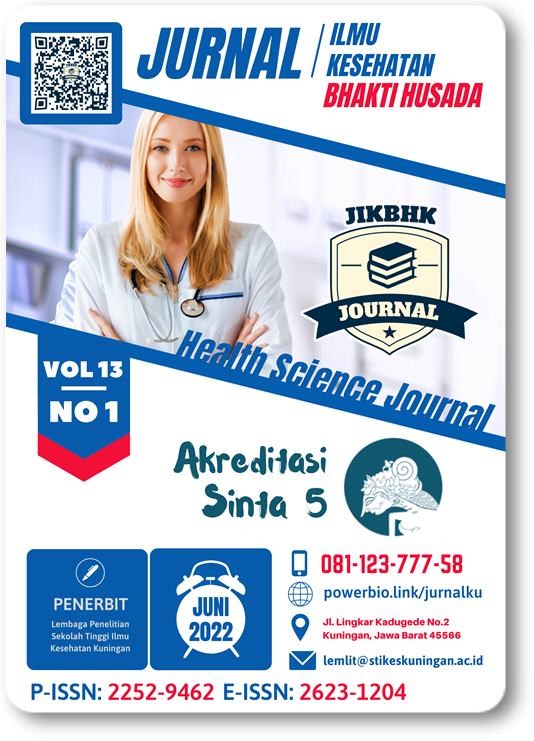 Downloads
How to Cite
Mamlukah, M., Apriliany, V. T. ., & Kumalasari, I. . (2022). PENGARUH TERAPI MUROTTAL AL-QUR'AN TERHADAP KECEMASAN, STRES DAN TEKANAN DARAH PADA PEKERJA (STUDI KASUS : PT. ARTERIA DAYA MULIA (ARIDA) CIREBON. Jurnal Ilmu Kesehatan Bhakti Husada: Health Sciences Journal, 13(01), 84–93. https://doi.org/10.34305/jikbh.v13i1.457
License
This work is licensed under a Creative Commons Attribution-NonCommercial-ShareAlike 4.0 International License.

Penulis yang mempublikasikan dengan Jurnal Ilmu Kesehatan Bhakti Husada setuju dengan syarat-syarat berikut:

Penulis mempertahankan hak cipta dan memberikan Jurnal Ilmu Kesehatan Bhakti Husada hak dari publikasi pertama dengan karya yang secara serentak dilisensikan di bawah lisensi Creative Commons Attribution 4.0 International yang memungkinkan orang lain untuk melakukan perubahan, menyesuaikan dan membangun karya dengan pengakuan atas karya penulis dan publikasi awal dalam Jurnal . Penulis diizinkan untuk menyalin dan mendistribusikan ulang versi karya yang diterbitkan jurnal (misalnya, mempostingnya ke repositori institusional atau menerbitkannya dalam sebuah buku), dengan pengakuan atas publikasi awalnya di Jurnal Ilmu Kesehatan Bhakti Husada.

Abstract viewed = 135 times