HUBUNGAN BANYAKNYA ANGGOTA KELUARGA, PENDIDIKAN ORANGTUA DAN KEPESERTAAN JAMINAN KESEHATAN ANAK DENGAN KEJADIAN BERAT BADAN KURANG PADA BALITA 24-59 BULAN DI PUSKESMAS CIMAHI SELATAN
Teguh Akbar Budiana

STIKes Jendral Achmad Yani

Dedi Supriadi

STIKes Jendral Achmad Yani
Abstract
Underweight in toodler will affect children's intelligence, decreased productivity and low cognitive abilities. The direct causes of underweight are food intake that is not in accordance with the nutritional adequacy of children and repeated infectious diseases. The indirect factors causing underweight vary widely among others, the number of family members, parental education and ownership of child health insurance. The research design used with a descriptive correlation approach with a case control study. A sample of 38 respondents, using a ratio of cases and controls 1: 1, so that the total sample amounted to 76 people (38 cases of underweight children under five and 38 underweight children as controls). Anthopometric index using weight-for-age Z-Score (WAZ), data tested using kai squared test (chi square) The results showed that the relationship between the family of number, mother education and ownership of child health insurance with the incidence of underweight in toodlers (p-value <α 0.05), while there is no relationship between father's education and the incidence of underweight in toodlers (p-value >α 0.05) in the public health center working area ​​ of Cimahi Selatan.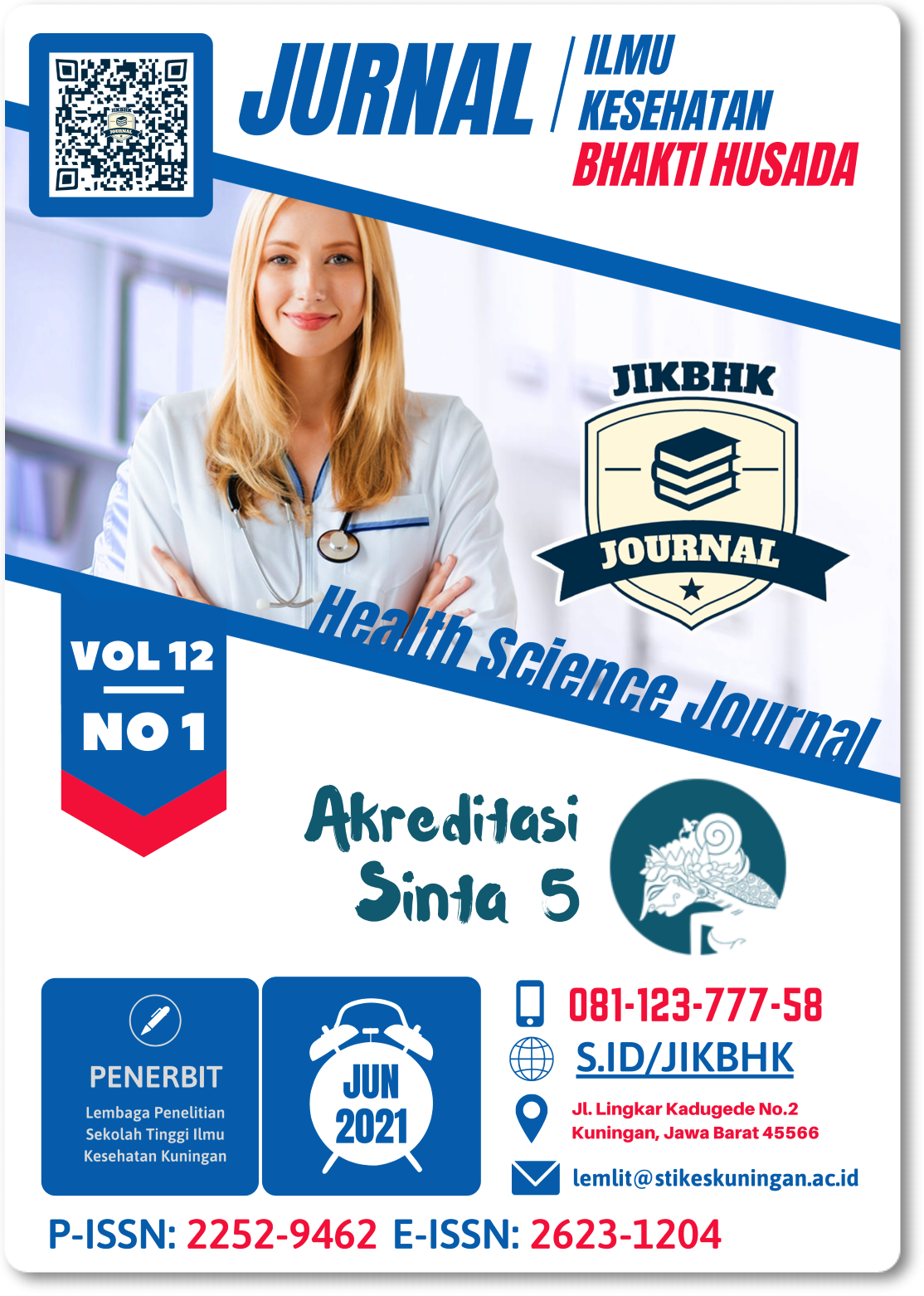 How to Cite
Budiana, T., & Supriadi, D. (2021). HUBUNGAN BANYAKNYA ANGGOTA KELUARGA, PENDIDIKAN ORANGTUA DAN KEPESERTAAN JAMINAN KESEHATAN ANAK DENGAN KEJADIAN BERAT BADAN KURANG PADA BALITA 24-59 BULAN DI PUSKESMAS CIMAHI SELATAN. Jurnal Ilmu Kesehatan Bhakti Husada: Health Sciences Journal, 12(1), 38-50. https://doi.org/10.34305/jikbh.v12i1.256
This work is licensed under a Creative Commons Attribution-NonCommercial-ShareAlike 4.0 International License.
Penulis yang mempublikasikan dengan Jurnal Ilmu Kesehatan Bhakti Husada setuju dengan syarat-syarat berikut:
Penulis mempertahankan hak cipta dan memberikan Jurnal Ilmu Kesehatan Bhakti Husada hak dari publikasi pertama dengan karya yang secara serentak dilisensikan di bawah lisensi Creative Commons Attribution 4.0 International yang memungkinkan orang lain untuk melakukan perubahan, menyesuaikan dan membangun karya dengan pengakuan atas karya penulis dan publikasi awal dalam Jurnal . Penulis diizinkan untuk menyalin dan mendistribusikan ulang versi karya yang diterbitkan jurnal (misalnya, mempostingnya ke repositori institusional atau menerbitkannya dalam sebuah buku), dengan pengakuan atas publikasi awalnya di Jurnal Ilmu Kesehatan Bhakti Husada.