KOMBINASI POSISI KEPALA 30° DAN PASIVE RANGE OF MOTION TERHADAP SKOR NIHSS PADA PASIEN STROKE
Arif Hendra Kusuma

STIKes Serulingmas Cilacap

Atika Dhiah Anggraeni

Universitas Muhammadiyah Purwokerto
Abstract
A stroke is neurological syndrome with characteristic of the deficit without any konflusi due to neurological disorders cerebral blood circulation that lasts for 24 hours or more. Stroke patient neurological status can be measured with the national institutes of health stroke scale (NIHSS). This hearing to assess the progress of the outcomes for stroke patient consisting of 11 components. The provision of head position of 30° accompanied with the passive range of motion (PROM) is a combination of action that serves maximize oxygenation of cerebral tissue and motor skills, so that healing to stroke patient will be faster. This research aims to review the combined effect head position of 30° and PROM against a decline in scores on NIHSS stroke patients. The design of the research uses a quasi experimental with approach pretest posttest control group design. The number of samples from 14 respondents were divided into 2 group. The results of the research uses dependent t-test show there is the combined effect head position of 30° and the PROM with a score NIHSS on stroke patients with P value = 0,002 (α<0,05). The advice of this research nurse can apply a combination head position of 30° and PROM as independent intervention nursing on stroke patient to on providing healing faster and made one of the SOP in patient care a stroke at the hospital.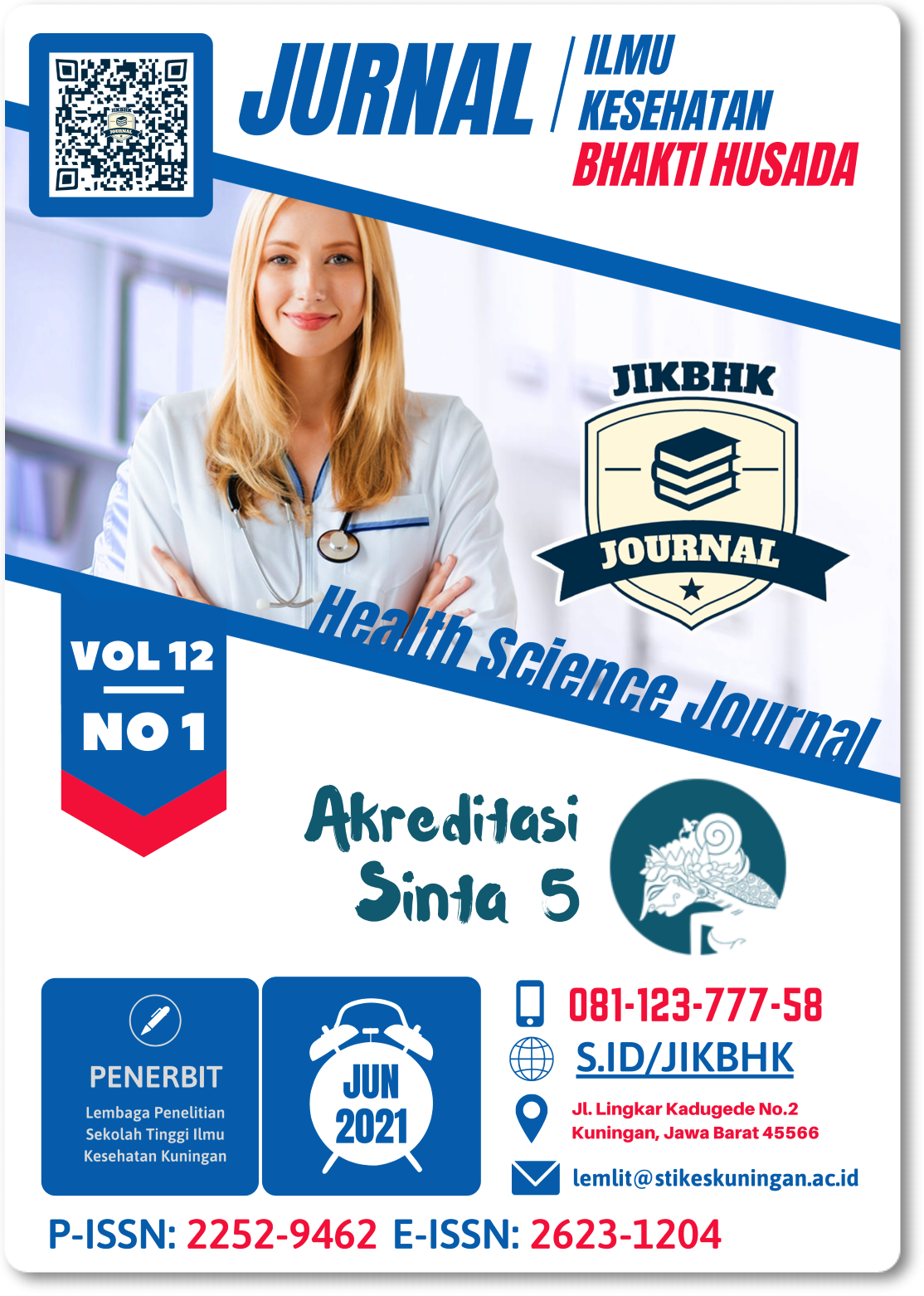 How to Cite
Kusuma, A., & Anggraeni, A. (2021). KOMBINASI POSISI KEPALA 30° DAN PASIVE RANGE OF MOTION TERHADAP SKOR NIHSS PADA PASIEN STROKE. Jurnal Ilmu Kesehatan Bhakti Husada: Health Sciences Journal, 12(1), 30-37. https://doi.org/10.34305/jikbh.v12i1.251
This work is licensed under a Creative Commons Attribution-NonCommercial-ShareAlike 4.0 International License.
Penulis yang mempublikasikan dengan Jurnal Ilmu Kesehatan Bhakti Husada setuju dengan syarat-syarat berikut:
Penulis mempertahankan hak cipta dan memberikan Jurnal Ilmu Kesehatan Bhakti Husada hak dari publikasi pertama dengan karya yang secara serentak dilisensikan di bawah lisensi Creative Commons Attribution 4.0 International yang memungkinkan orang lain untuk melakukan perubahan, menyesuaikan dan membangun karya dengan pengakuan atas karya penulis dan publikasi awal dalam Jurnal . Penulis diizinkan untuk menyalin dan mendistribusikan ulang versi karya yang diterbitkan jurnal (misalnya, mempostingnya ke repositori institusional atau menerbitkannya dalam sebuah buku), dengan pengakuan atas publikasi awalnya di Jurnal Ilmu Kesehatan Bhakti Husada.