HUBUNGAN SIKAP TENTANG ALAT KONTRASEPSI PRIA DENGAN PARTISIPASI SUAMI MENGGUNAKAN ALAT KONTRASEPSI DI KELURAHAN KEBONBARU KOTA CIREBON
Maesaroh Maesaroh

Politeknik Kesehatan Bhakti Pertiwi Husada
Abstract
Indonesia is one of the developing countries in the world with various types of problems faced, one of which is in the population sector, namely the high population growth. The family planning program has a strategic position in efforts to reduce the rate of population growth. Family planning participants are more dominated by women. Even though family planning is not only intended for women. Men also have an obligation to participate in the success of this program, so this study aims to determine the relationship between attitudes about male contraceptives and husband participation. This study used an analytical research method with a cross sectional approach, with a population of 1,022 people, and a sample size of 88 people. The analysis was performed using the chi-square statistical test. The results showed a relationship between attitudes about male contraception and the participation of husbands in using contraceptives in Kebonbaru Village, Cirebon City with a p value of 0.001 which is smaller than the alpha value of 0.05. It is hoped that men of childbearing age can increase their knowledge through direct information from health workers or social media so that they can increase knowledge about contraceptives so that their husbands can participate in the use of contraceptives.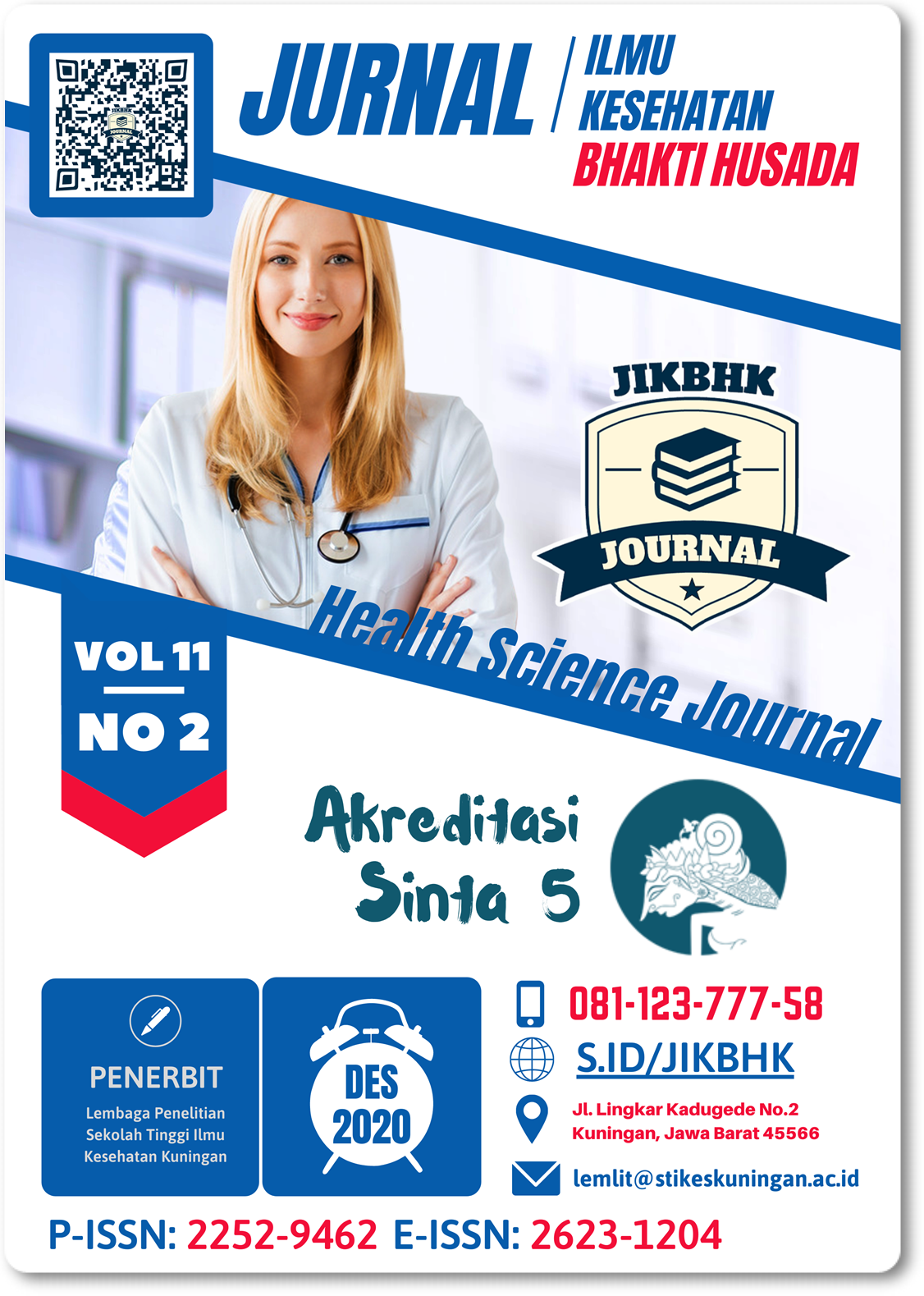 How to Cite
Maesaroh, M. (2020). HUBUNGAN SIKAP TENTANG ALAT KONTRASEPSI PRIA DENGAN PARTISIPASI SUAMI MENGGUNAKAN ALAT KONTRASEPSI DI KELURAHAN KEBONBARU KOTA CIREBON. Jurnal Ilmu Kesehatan Bhakti Husada: Health Sciences Journal, 11(2), 169-179. https://doi.org/10.34305/jikbh.v11i2.169
This work is licensed under a Creative Commons Attribution-NonCommercial-ShareAlike 4.0 International License.
Penulis yang mempublikasikan dengan Jurnal Ilmu Kesehatan Bhakti Husada setuju dengan syarat-syarat berikut:
Penulis mempertahankan hak cipta dan memberikan Jurnal Ilmu Kesehatan Bhakti Husada hak dari publikasi pertama dengan karya yang secara serentak dilisensikan di bawah lisensi Creative Commons Attribution 4.0 International yang memungkinkan orang lain untuk melakukan perubahan, menyesuaikan dan membangun karya dengan pengakuan atas karya penulis dan publikasi awal dalam Jurnal . Penulis diizinkan untuk menyalin dan mendistribusikan ulang versi karya yang diterbitkan jurnal (misalnya, mempostingnya ke repositori institusional atau menerbitkannya dalam sebuah buku), dengan pengakuan atas publikasi awalnya di Jurnal Ilmu Kesehatan Bhakti Husada.