IDENTIFIKASI TELUR NEMATODA USUS SOIL TRANSMITTED HELMINTHS (STH) PADA KUKU JARI TANGAN PEKERJA TEMPAT PENITIPAN HEWAN METODE PENGAPUNGAN (FLOTASI) MENGGUNAKAN NaCl
Dwi Aprilia Anggraini

STIKES Ngudia Husada Madura

Norma Farizah Fahmi

STIKes Ngudia Husada Madura

Riyadatus Solihah

STIKes Ngudia Husada Madura

Yogi Abror

STIKes Ngudia Husada Madura
Abstract
Worms is an endemic, chronic and zoonotic disease. Soil Transmitted Helminths (STH) are a class of worms that can cause worm infections. STH infection can be transmitted to humans in various ways, one of which is through worm eggs attached to dirty fingernails so that it can pose a risk to health. This study aims to identify STH intestinal nematode eggs on fingernails using the flotation method. This type of research is a descriptive analysis using a laboratory approach method. 20 samples were taken by purposive sampling in four different animal care centers and then identified by the floating method. From the identification results, it was found that 10% of STH intestinal nematode eggs were contaminated on fingernails using the floatation method and 90% were not contaminated with STH intestinal nematode eggs. The types of worm eggs found were Trichuris sp and Hookworm. It is recommended that workers be able to maintain cleanliness of fingernails and wear personal protective equipment (PPE) before starting work.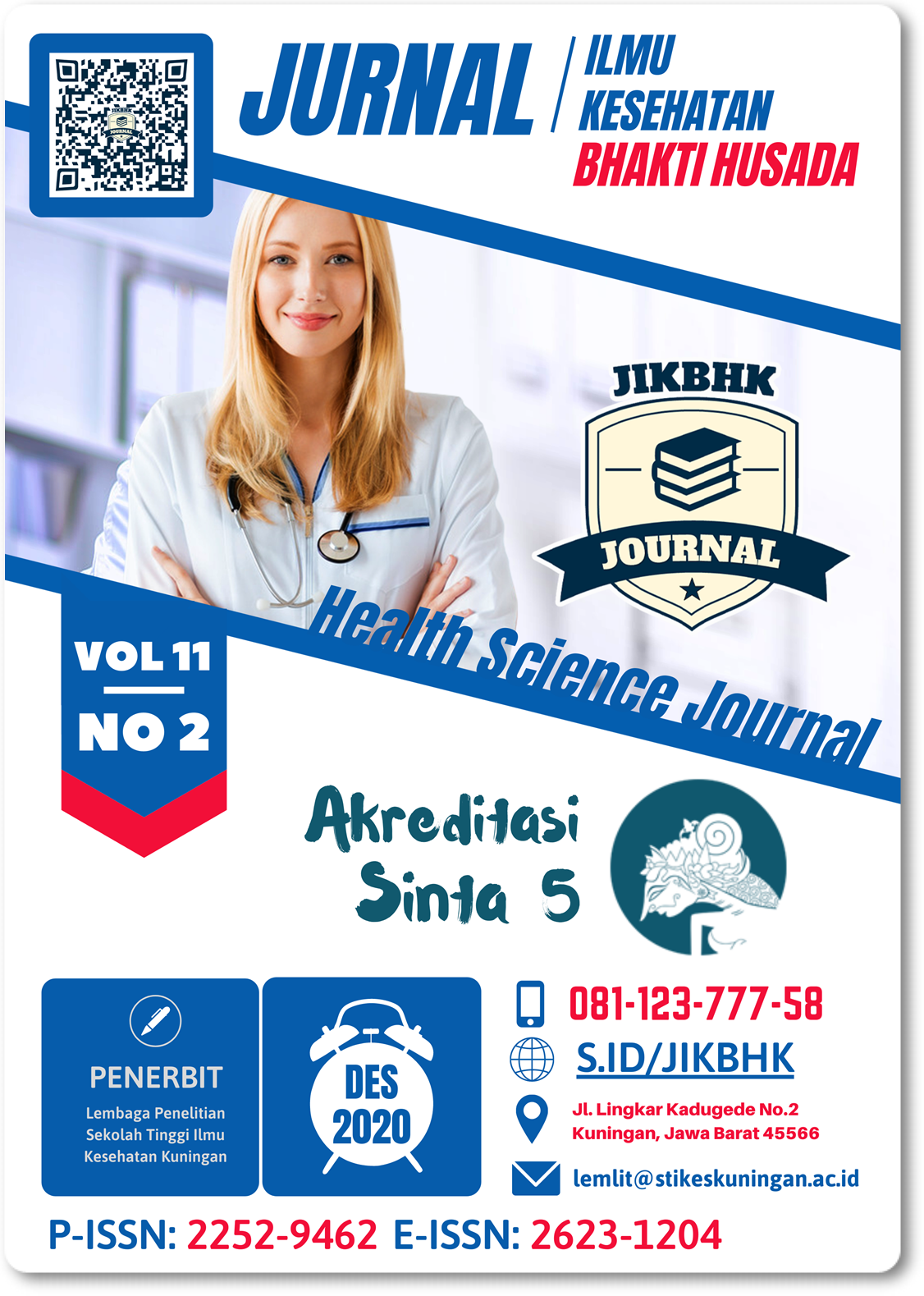 How to Cite
Anggraini, D. A., Fahmi, N., Solihah, R., & Abror, Y. (2020). IDENTIFIKASI TELUR NEMATODA USUS SOIL TRANSMITTED HELMINTHS (STH) PADA KUKU JARI TANGAN PEKERJA TEMPAT PENITIPAN HEWAN METODE PENGAPUNGAN (FLOTASI) MENGGUNAKAN NaCl. Jurnal Ilmu Kesehatan Bhakti Husada: Health Sciences Journal, 11(2), 121-136. https://doi.org/10.34305/jikbh.v11i2.166
Penulis yang mempublikasikan dengan Jurnal Ilmu Kesehatan Bhakti Husada setuju dengan syarat-syarat berikut:
Penulis mempertahankan hak cipta dan memberikan Jurnal Ilmu Kesehatan Bhakti Husada hak dari publikasi pertama dengan karya yang secara serentak dilisensikan di bawah lisensi Creative Commons Attribution 4.0 International yang memungkinkan orang lain untuk melakukan perubahan, menyesuaikan dan membangun karya dengan pengakuan atas karya penulis dan publikasi awal dalam Jurnal . Penulis diizinkan untuk menyalin dan mendistribusikan ulang versi karya yang diterbitkan jurnal (misalnya, mempostingnya ke repositori institusional atau menerbitkannya dalam sebuah buku), dengan pengakuan atas publikasi awalnya di Jurnal Ilmu Kesehatan Bhakti Husada.