PENGARUH KOMPRES HANGAT TERHADAP INTENSITAS NYERI PERSALINAN KALA I FASE AKTIF DI RUMAH SAKIT DINDA KOTA TANGERANG
Keywords:
Intervensi, Kompres hangat, Nyeri persalinan, Terapi komplementer
Abstract
 Data 90% ibu hamil yang melahirkan pertama kali mengungkapkan rasa takut karena nyeri persalinan. Perlu adanya terapi komplementer yang membantu ibu mengurangi rasa nyeri saat kala pembukaan persalinan. Untuk mengetahui pengaruh kompres hangat terhadap intensitas nyeri persalinan pada kala 1 fase aktif. Penelitian menggunakan pendekatan quasi-eksperimental non equivalen control group. Pengumpulan data dilakukan pada RS Dinda, pada bulan Juli-Agustus 2022. Responden dalam penelitian adalah 36 ibu hamil primipara yang sudah memasuki fase aktif kala 1 persalinan yang dibagi menjadi dua kelompok, masing-masing 18 responden untuk kelompok intervensi dan kelompok kontrol. Teknik pengambilan sampel menggunakan Insidental Sampling. Instrumen untuk mengukur nyeri menggunakan Wong Baker Faces Rating Scale, analisis menggunakan univariat dan bivariat dengan uji Paired T-Test. Menunjukkan bahwa pemberian kompres hangat dapat menurunkan intensitas nyeri persalinan dengan rata-rata 1,6 yaitu dari rata-rata 8,3 menjadi 6,7 pada kelompok intervensi. Hasil uji Paired T-Test diperoleh p-value sebesar 0,001<0.05, ada pengaruh signifikan kompres hangat dalam menurunkan tingkat nyeri kala 1 fase aktif persalinan. Tenaga kesehatan perlu mempertimbangkan kompres hangat ini untuk membantu menurunkan intensitas nyeri persalinan pada kala 1 fase aktif.
References
Alimoradi, Zainab, Farideh Kazemi, Maryam Gorji, and Mahboubeh Valiani. (2020). Effects of Ear and Body Acupressure on Labor Pain and Duration of Labor Active Phase: A Randomized Controlled Trial. Complementary Therapies in Medicine 51:102413.
Andarmoyo, Suharti. (2013). Persalinan Tanpa Nyeri Berlebihan, Ar-Ruzz Media.
Aslamiyah, Talitha, Gatut Hardiato, and Kating Kasiati. (2020). Reducing Labor Pain with Warm Compress on the 1st Stage Labor of Active Labor Phase. Indonesian Midwifery and Health Sciences Journal 4(4):295–305.
Fatmawati D.A (2018). The Effectivity of Cold Compress and Warm Compress to Intensity Level of Menstrual Pain (Dysmenorrhea).
Felina, Mutia, Masrul Masrul, and Detty Iryani. (2015). Pengaruh Kompres Panas Dan Dingin Terhadap Penurunan Nyeri Kala I Fase Aktif Persalinan Fisiologis Ibu Primipara. Jurnal Kesehatan Andalas 4(1).
Kaur, Jasvir, Poonam Sheoran, Simarjeet Kaur, and Jyoti Sarin. (2020). Effectiveness of Warm Compression on Lumbo-Sacral Region in Terms of Labour Pain Intensity and Labour Outcomes among Nulliparous: An Interventional Study. Journal of Caring Sciences 9(1):9.
Kimber, L., M. McNabb, C. Mc Court, A. Haines, and P. Brocklehurst. (2008). Massage or Music for Pain Relief in Labour: A Pilot Randomised Placebo Controlled Trial. European Journal of Pain 12(8):961–69.
Mertz, M. J., & Earl, C. J. (2018). Labor Pain Management. In Integrative Medicine: Fourth Edition (Fourth Edi). Elsevier Inc. Https://Doi.Org/10.1016/B978-0-323-35868-2.00052-9.
Moonti, Mutia Agustiani. (2022). PENGARUH TERAPI KOGNITIF UNTUK MENURUNKAN KECEMASAN TERHADAP ORANG DENGAN HIV-AIDS (ODHA) DI KOTA GORONTALO. Journal of Nursing Practice and Education 2(02):90–98. https://doi.org/10.34305/jnpe.v2i2.460.
Rosmiarti, Marlin, Riska, Murbiah. (2020). Reduction of Labour Pain with Back Massage. Enfermería Clínica 30:209–12.
Rosmiarti, Ria, Gustirini, Aminah Maya, and Sarina Binti Jamalluddin. (2020). Murotal Al-Quran Therapy on Decreasing Labor Pain and Anxiety in Maternity Mothers First Phase. Enfermeria Clinica 30:110–14.
Safitri, Yenny. (2017). PERBANDINGAN EFEKTIFITAS MASSAGE DAN KOMPRES HANGAT TERHADAP NYERI PERSALINAN KALA 1 FASE AKTIF. Jurnal Ners 1(2).
Siswi Utami, F., & Mutiara Putri, I. (2020). Penatalaksanaan Nyeri Persalinan Normal. Midwifery Journal: Jurnal Kebidanan UM. Mataram 5(2):107–9.
Smith, Caroline A., Kate M. Levett, Carmel T. Collins, Mike Armour, Hannah G. Dahlen, and Machiko Suganuma. (2018). Relaxation Techniques for Pain Management in Labour. Cochrane Database of Systematic Reviews (3).
Torkiyan, Hamideh, Sedigheh Sedigh Mobarakabadi, Reza Heshmat, Alireza Khajavi, and Giti Ozgoli. (2021). The Effect of GB21 Acupressure on Pain Intensity in the First Stage of Labor in Primiparous Women: A Randomized Controlled Trial. Complementary Therapies in Medicine 58:102683.
Türkmen, Hülya, and Nazan Tuna Oran. (2021). Massage and Heat Application on Labor Pain and Comfort: A Quasi-Randomized Controlled Experimental Study. Explore 17(5):438–45.
Vasra, Elita, and Okta Saria Putri. (20210. Effectiveness of Using Hot and Cold Packs Against Pain In First Stage of Labor. Journal of Maternal and Child Health Sciences (JMCHS) 1(2):132–38.
Winarni, Lastri Mei, and Novita Sari. (20210. Does Prenatal Massage Reduce Severe Pain of Mother in Active Labour? Enfermería Clínica 31:S436–38.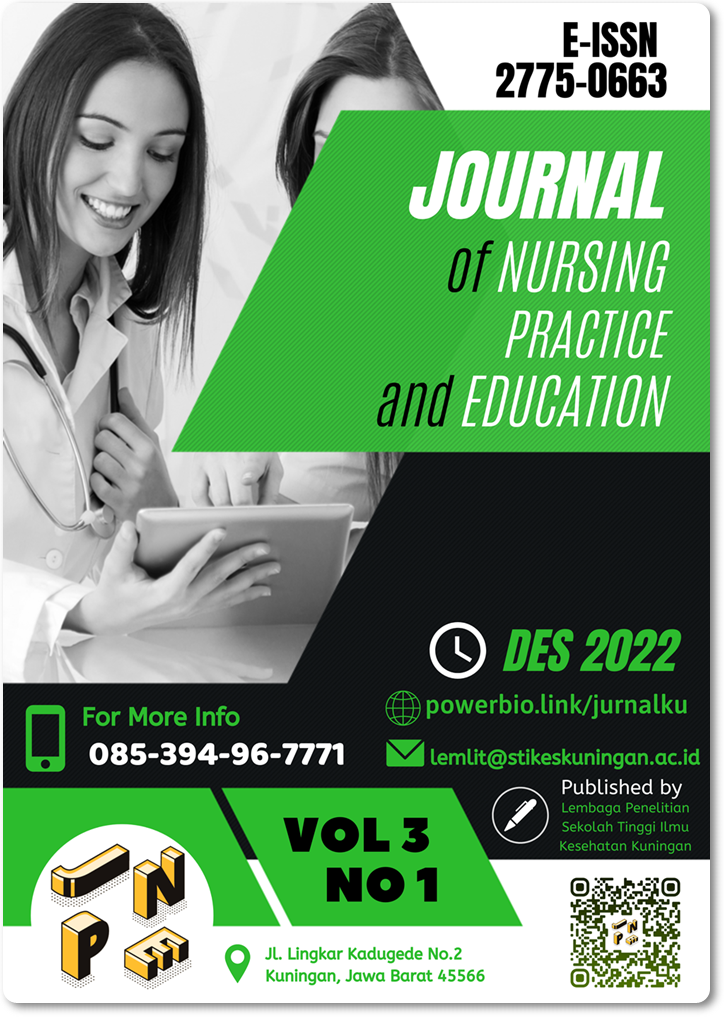 Downloads
How to Cite
Kholisoh, I., Winarni, L. M., & Afiyanti, Y. (2022). PENGARUH KOMPRES HANGAT TERHADAP INTENSITAS NYERI PERSALINAN KALA I FASE AKTIF DI RUMAH SAKIT DINDA KOTA TANGERANG. Journal of Nursing Practice and Education, 3(01), 1–10. https://doi.org/10.34305/jnpe.v3i01.551
License
This work is licensed under a Creative Commons Attribution-NonCommercial-ShareAlike 4.0 International License.

Penulis yang mempublikasikan di jurnal kami, setuju dengan syarat-syarat berikut:

Penulis mempertahankan hak cipta dan memberikan Jurnal Kami hak dari publikasi pertama dengan karya yang secara serentak dilisensikan di bawah lisensi Creative Commons Attribution 4.0 International yang memungkinkan orang lain untuk melakukan perubahan, menyesuaikan dan membangun karya dengan pengakuan atas karya penulis dan publikasi awal dalam Jurnal . Penulis diizinkan untuk menyalin dan mendistribusikan ulang versi karya yang diterbitkan jurnal (misalnya, mempostingnya ke repositori institusional atau menerbitkannya dalam sebuah buku), dengan pengakuan atas publikasi di jurnal kami.

Abstract viewed = 292 times