DESCRIPTION OF MIDWIFERY STUDENT KNOWLEDGE ABOUT 1000 HARI PERTAMA KEHIDUPAN (HPK) BASED ON MEDIA INSTITUTE OF HEALTH SCIENCES KUNINGAN 2020
Keywords:
HPK, Knowledge, Midwifery Students, Media Resources
Abstract
The first 1000 days of life or 1000 Hari Pertama Kehidupan (HPK) is a period starting from the beginning of pregnancy until the baby is 2 years old. Knowledge of 1000 HPK is very important for midwifery students as a benchmark for health workers in serving clients in the future. About 6 in 10 students still do not understand and know about the First 1000 Days of Life. The purpose of this study was to describe the level of knowledge of midwifery students about the first 1000 days of life based on media sources at the Kuningan College of Health in 2020. Descriptive research method with observational design, population of midwifery students of level II as many as 40 people, using a total sampling technique. Direct data collection (primary data) using a questionnaire. Data analysis using univariate analysis. The results showed that most midwifery students level II had less knowledge of 20 respondents (50%), most of the media sources for obtaining information about HPK were mostly audio-visual 32 (80%), and the level of knowledge of midwifery students level II about 1000 HPK based on media sources. as many as 17 (42.5%) had less knowledge. It is recommended that level II midwifery students get information about 1000 HPK not only through the media but can seek information from various sources, for the Midwifery Study Program to be used as evaluation material, as input for developing an additional curriculum related to 1000 HPK in the Midwifery Care course so that it can increase student knowledge.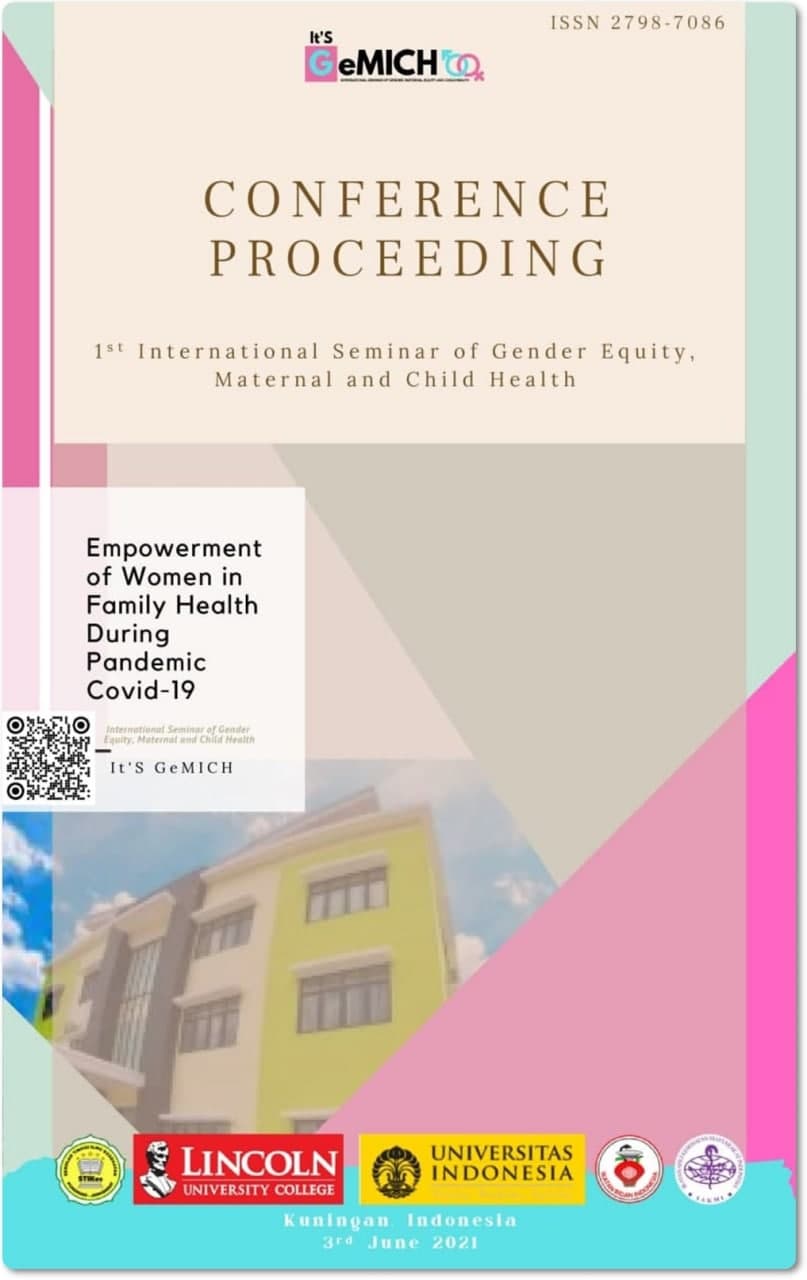 Downloads
How to Cite
Soviyati, E., Gani Utari, T. S., & Hardini, T. (2021). DESCRIPTION OF MIDWIFERY STUDENT KNOWLEDGE ABOUT 1000 HARI PERTAMA KEHIDUPAN (HPK) BASED ON MEDIA INSTITUTE OF HEALTH SCIENCES KUNINGAN 2020. International Seminar of Gender Equity Maternal and Child Health, 1(1), 101–108. https://doi.org/10.34305/gemic.v1i1.317

Abstract viewed = 267 times